Datakit will be visiting
Industrie Lyon
, FR, 2013 April 16th-19th.
This is a great opportunity to meet major
CAM
vendors and showcase Datakit achievements in this domain.
Datakit has been working for a decade on providing valuable assets for
CAM
purpose. The company is shipping
toolkits
to extract geometric, machining features and Product Manufacturing Information (PMI), directly from native CAD data : Dassault's
CatiaV5/6
™,
SolidWorks
™ (WIP), Siemens
NX
™, PTC
Creo
™,
STEP
, without the need of any separate CAD software license :
https://www.datakit.com/en/crosscad_ware.php
.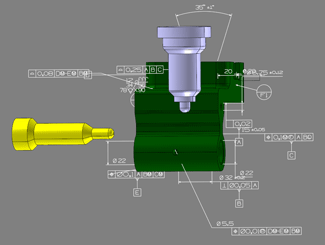 This includes
Hole Machining and Pattern
CAD native information, that can be used to clearly identify features directly from the native CAD data.
Datakit SDK
exposes various critical data for manufacturing, compared to geometric feature recognition post-process :
Hole design numerical values : positioning, sketch, depths, diameters, angles, direction.
Semantic data : hole type (simple, tapered, counter bored, sunk, drilled etc...), tolerancing (can include standard definition), pitch and thread information.
Links to sketch, support and generated geometries.
Pattern / Toolpath information : rectangular, circular, user-defined, instances.
Besides of Machining Features ability, Datakit provides
Product Manufacturing Information (PMI)
through
APIs
designed for both semantic and rendering purpose. Valuable tolerancing, surfacing and geometric associativity is supported for various PMI entities :
Dimensions : Linear, Angular, Radial...
Geometrical Tolerances : Flatness, Cylindricity, Surface Profile, Position, Angularity...
Roughness and Welding.
While Datakit is eager to help
CAM vendors
import CAD data, the company is investigating in 2013 support of specific
CAM Process and Manufacturing
data as well, including :
Tool Definitions, Tool Paths.
Machining Operations, Strategies and Process.
We would be glad to meet you and discuss these new opportunities on the show. Please
contact us
to arrange a meeting !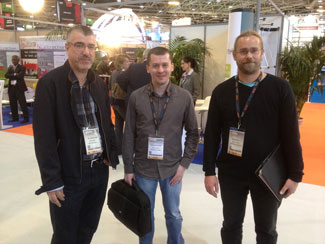 Datakit team at Industrie Lyon 2013