Datakit, a leading company in CAD data exchange, announces the support of the Creo Parametric brand new version 4.0, along with many technical improvements to its technology.
Datakit software are thus now able to read files from Pro/ENGINEER 2000i to Creo 4.0, to convert them in many 2D and 3D formats.
"Our company is very responsive about the support of new versions", explains Samad Elboustini, Datakit CTO, "Our team works continuously on improving our Creo format reader, and is ready to react as soon as a new version is available, to integrate the new features introduced by PTC".
That is how Datakit can announce Creo 4.0 support only few months after its official release.
"This reactivity is highly appreciated by our customers", he adds, "They can rely on us to provide them with the ability to support the latest version of a format as soon as it is released". 
The support of new versions is an important part of Datakit developer's work, but their mission is not limited to that. Indeed, the team is also constantly working on improving the quality of its Creo reader, and on supporting new types of data. 
"Since we developed the support of Creo 3.0 in 2014, we have been working continually on improving our reading library", says Philippe Baudrion, in charge of Datakit's Creo reader. "The reading of the geometrical data has been greatly improved, becoming even more precise and powerful. But our work is not only about improving geometry. We also do a lot of research to extract more and more additional data". 
Indeed, in the last few years, Datakit's Creo reader has become able to read many new data: 
- ModelDiplays (predefined views managing an entity filtering, an orientation and an eventual cutting plane) are now supported.
- Hole, Pattern and Pipe features are recovered, in parts as well as in assemblies. They are accompanied by semantical data, allowing to get technical information, such as, for instance, tolerances and profile of a hole.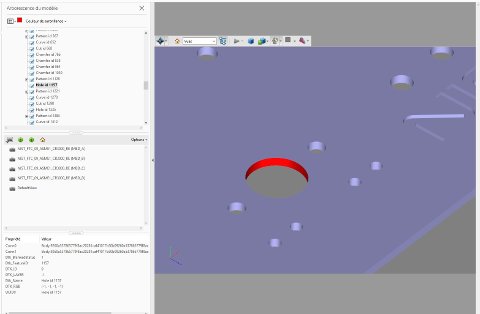 Creo file converted in 3DPDF with CrossManager.
Selecting a "hole" feature highlights the hole in the geometry. Semantical information of the hole are displayed.
ModelDisplays of the original file are available.
Model courtesy of NIST
- Connectors are retained. They link an entity with its geometry. This allow, for instance, to highlight an entity when selecting the associated PMI.
- PMI (Product Manufacturing Information), which were already supported in previous versions, have been improved in order to manage new ones. (FD&T, GD&T, 3D annotations, dimensions, surface finish…).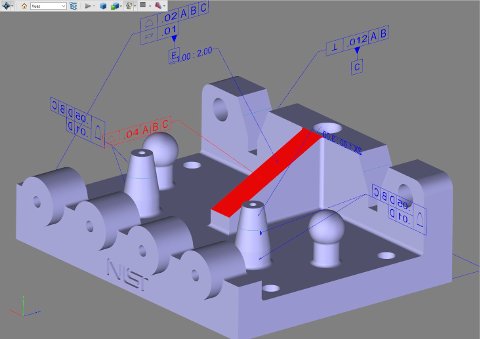 Creo file converted in 3D PDF with CrossManager.
PMI are retained. Selecting a PMI highlights the matching entity.
Model courtesy of NIST
The support of all these data offer advantages for all Datakit products use cases: 
- CAD software end users benefit from it by keeping a maximum amount of data in their conversion process.
CrossManager and CrossCad/Plg software allow them indeed to convert Creo files in other formats. New data supported are thus retained when converting. For instance, a user converting a Creo file to 3DPDF for viewing purposes will get a 3DPDF file with the model geometry, its PMI, its ModelDisplays… 
CrossManager can translate Creo 4.0 files (.prt, .asm, .xpr, .xas, .drw) in more than twenty formats.
- Software vendors benefit from it by getting the ability to support more and more data in their application.
Indeed, CrossCad/Ware, Datakit's API, allows them to access data contained in Creo files. All data collected by CrossCad/Ware can be integrated in their own software. ISVs can thus extract geometry, or more specific data using the provided functions, and then process it to deliver it to their users.
Datakit's API, is already used by many software vendors, coming from various area (visualization, simulation, metrology, dental, CAD, CAM, CAE, CAQ, BIM, EDA, PLM, ERP…)
CAD software users interested in CrossManager and CrossCad/Plg can get more information and trial licenses on www.datakit.com.
ISVs, wishing to allow their users to use data coming from Creo files can get more information about CrossCad/Ware on www.datakit.com/en/crosscad_ware.php, and can contact Datakit in order to explore possibilities of integration suitable for their software.