Some data exchange formats come and go like fashionable clothes: here today, gone tomorrow. Others become part of the landscape and are even adopted as industry standards. The aerospace industry is a leading-edge market that, long ago, adopted the STEP-TAS/NRF/SPE standard, pioneered and managed by the European Space Agency (ESA) and the European Space and Technology Centre (ESTEC).
As leader in the field of CAD data exchange, Datakit recently took the opportunity to showcase its achievements and communicate with other market players at the space industry data exchange forum in Cannes. It also underlined its commitment to supplying the native interfacing solutions that are increasingly in demand in the sector.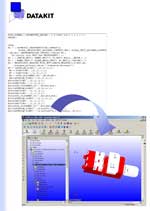 Datakit still has a strong historical attachment to STEP. Looking back ten years, the company's senior developers can still clearly recall how development methods were completely overhauled in order to rebuild a technology based on structures implemented in the STEP standard. When STEP was expanded to concepts beyond part and assembly geometry, this perfectly addressed Datakit's ambition to address all product-related data exchange.
What exactly is STEP?
STEP is not just a method for defining geometry. It is also a way to embody a product's complete data architecture. Any feature in the model is associated with a list, a project, an environment or an assembly in which relationships are maintained.
This data storage method encourages the sharing of knowledge within a project team, and a concurrent approach to product development, as well as enabling exchanges of all geometric data (wireframe, surface, exact or faceted solid representations, colours, filters, annotations, etc.) and the topology of parts and complete assemblies. Another strength of the STEP format for the aerospace industry is the ability to integrate electrical, electronic and hydraulic components as solids and to use them to support a mechanical and thermal analysis in the complete environment. Another advantage of STEP is that it has been widely adopted by CAD vendors. Efficient interfacing still depends on whether or not the standards have been successfully integrated in the CAD software and on whether the software delivers a true topology.
An expert opinion:
Philippe Pigeard, manager of Cadlink, a distributor of Spinfire and Datakit solutions, says that, in the very short term, industrial companies will be phasing out IGES and working solely with STEP for the actual manufacturing environment: this is already the case in many areas of industry. STEP has the advantage of exporting not only a geometry but also a complete assembly structure with part names. Surfaces are stitched together better and you get better quality surfaces. The next step up is to use native interfaces that create links between even more types of data, such as Features and FD&T.