Datakit announces
CrossManager© 2013.3
update for CAD converters, along with
plugins
and
SDK toolkits
.
CAD Formats update
Latest release comes with several CAD readers updates : Dassault™ CatiaV5-6 R2013 and Autodesk® Inventor® 2014. Up-to-date versioning information can be found on https://www.datakit.com/en/cross_manager.php.
CrossManager 2013.3 does support native 3D PDF output. Datakit is thus proposing a visualization solution combined with Adobe™ Reader, widely spread as a de facto standard across engineering and marketing offices. This new release includes the following features :
Part/Assembly construction tree/nodes
Colors / Attributes / Visibilities
Display of PMIs / 3D Annotations / Model Views / Section Views
File and Node Metadata
Support for 3D PDF writer is also allowing Independent Software Vendors to extend their export ability to popular 3D PDF format (U3D).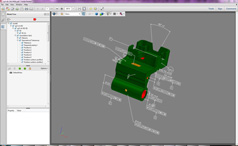 Click on the pictures above to open the 3D PDF files !
Long Term Archiving (LOTAR) - STEP AP242 Draft DIS Support
Datakit is continuously bringing new functional enhancements including STEP reader/writer conformance to CAX-IF Recommended Practices and LOTAR expectations. Datakit operates as a Solution Provider for AP242 ballots and actively participates in these works.
Datakit has participated in 2nd Qtr. Workshop: June 11 -13, 2013; Toulouse, France and will be attending 3th Qtr. Workshop: September 23 -25, 2013; Charleston, SC, USA. Current focus is defining STEP schema to implement complex semantic links (PMIs, EER) across STEP assemblies and parts.
The company is putting much effort as well on its JT and PDF portfolio to enable high-fidelity visualization of STEP files, including newest AP242 Draft DIS format.
To get more information, please browse and register on Datakit website:  https://www.datakit.com/en/register.php