The French data transfer specialist in CAD systems adds a writer for gITF format files to their current offer. It is widely used for displaying 3D models on the web and is considered the ''JPEG of 3D''.
The French publisher Datakit, specialist in data exchange tools between CAD systems, adds to its offer a writer for glTF (Graphics Library Transmission Format) files, which is mainly used to display 3D models on the web.
The glTF format (.gltf and .glb) is a royalty-free file format based on the JSON format, and was made to ease the exchange of scenes and models between different 3D applications.
It was first developed in 2012 by the industry consortium Khronos Group, whose goal is to create agnostic APIs with public specifications that can be used for free to "create and run multimedia applications on a large number of platforms". The creators call it the "JPEG of 3D".
Version 1.0 of glTF was announced in October 2015 and the version 2.0 in June 2017. The latter, in addition to several improvements, adds PBR (Physically Based Rendering).
Having the glTF 2.0 format use faceting makes it compact, interoperable, and quick to load, which makes it easier to display 3D models on web pages.
gITF: a new offer for Datakit
Datakit, aware of these advantages, decided to develop a writer for glTF format files in version 2.0.
"The glTF format is widely used by software publishers who want to display models or entire scenes quickly, using facetization. Therefore, those developing solutions in the fields of visualization, video games or CAD are interested in it, because it is a format that works very well on internet pages, thus facilitating the sharing of 3D models. This is why in 2019 we launched the development of this new writer, which allows CAD publishers to use this exchange format", explains Philippe Baudrion, responsible for the development of the glTF format writer.
Today, with the release of version 2020.1, Datakit's tools for writing in glTF format are available both for developers via the CrossCad/Ware software development kit (SDK), and for end users via the CrossManager standalone software.
Software publishers now have the possibility to offer glTF format exporting in their own software via the CrossCad/Ware SDK, along with many other supported formats. Over a hundred programs use Datakit's exchange technology, which has become a reference in the field.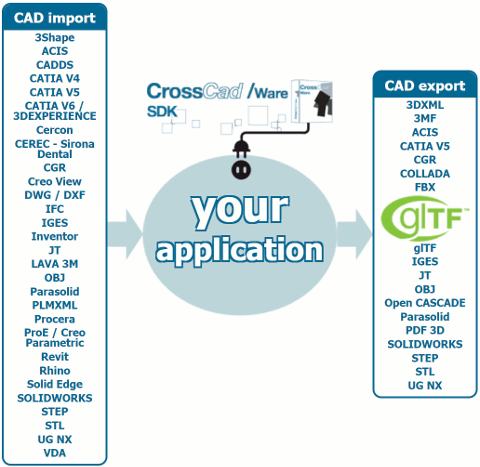 Exporting gITF is now available in the CrossCad/Ware software development kit for developers.
End users can also use the CrossManager software to translate their models, which can be in any of the 30 most common CAD formats, into glTF in order to quickly and efficiently convert them to a more compact format, or publish them directly to their web pages.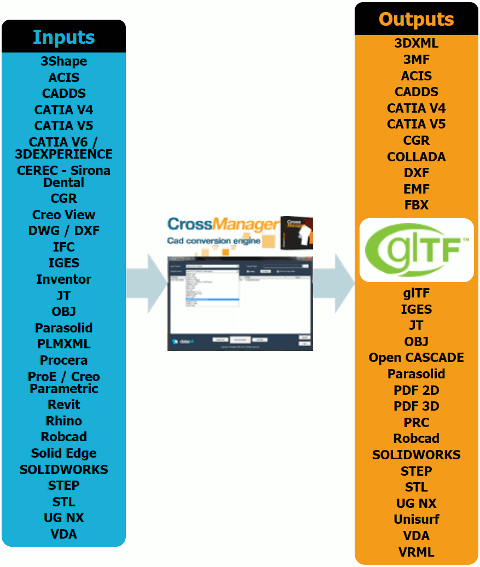 glTF is now one of the multiple writing formats supported by the CrossManager translator.
Writing of the different versions
The glTF format is available in two versions:
the "standard glTF", which works with two files:

a .gltf using JSON to define structure
a .bin containing binary data (including geometry)

the "binary glTF", where everything is contained in a single .glb file.
Datakit tools manage the writing of glTF format in these two versions, to meet the different user needs.
To find out more, visit https://www.datakit.com/en/crosscad_ware.php