ActuaPlast
Actuaplast is a company that specialises in the design and manufacture of plastic parts for the automotive and electrical/electronics industries, but also works for multi-sector manufacturers to whom it offers strong technical support and partnership.
Its business focuses on two main areas:
3D injection moulding and blowing: from the design to the manufacture of tooling to the production of individual parts and complete assemblies;
rapid prototyping, stereolithography and polyamide powder sintering as well as polyurethane resin replication.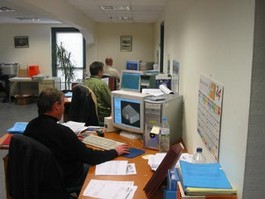 Actuaplast uses leading-edge technologies for its design, manufacturing and control work. TopSolid and SolidWorks licences are used to design the moulds that are then machined on three NC mills driven by the WorkNC software.
To read the CAD files supplied by its big manufacturing customers and their suppliers, the design office took the advice of the Axemble consultancy and acquired Datakit's native Catia V4 and V5 interfaces. The acquisition was decided in order to keep pace with the changes introduced in Catia V5 and take advantage of a higher quality technical support than it was used to. These interfaces enable Actuaplast to recover the feature information that is supplied by customers for the manufacture of moulds and tooling. To supply its assemblies, it uses the concepts of filters supplied by Datakit to select and import the parts it needs.
Our thanks to Ronan PERENNOU CEO of ActuaPlast and Hubert Donnou, project manager, and head of corporate IT.

http://www.actuaplast.fr/

Guascor Foton
GUASCOR FOTON is a GUASTAR group company. Based in Sant Quirze del Valles in Spain, it designs and manufactures photovoltaic panels that concentrate solar rays. Its substantial investment in R&D is the key to its turnkey leading-edge technology offerings for which the company also provides maintenance.

GUASCAR FOTON uses SolidWorks CAD software for drafting work, and to prepare the panel manufacturing and quality control. It is supplied by the company CimWorks, which also distributes Datakit interfaces. Recently, GUASCAR FOTON has been directly reading files designed with Catia and SolidWorks, a capability that offers the immediate advantages of cutting out intermediary conversion steps and the risk of information loss.
Our thanks to the engineering & manufacturing department of GUASCAR FOTON for their collaboration.