The Acoustics & Environment Department of AIRBUS France uses CATIA V5 3D to OPEN CASCADE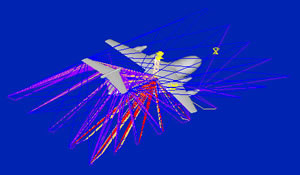 The Acoustics & Environment Department is responsible for the global noise of Airbus aircraft.
It uses this interface to solve the problem of data being damaged during transfers between the CAD and CAE environments.
A high-quality data transfer capability ensures that the acoustic optimisation process, using parametric CAD data as input to solve acoustic problems, is now comprehensive, automated and seamless.
Courtesy of Airbus France

Diamond Aircraft A: Diamond Aircraft Industries uses CATIA V5 3D to SOLIDEDGE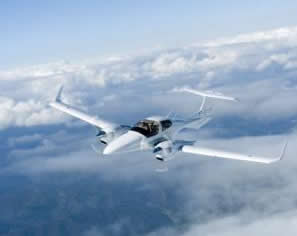 DA42 Twin Star
Diamond Aircraft Industries is a worldwide operating composite aircraft manufacturer with offices in major centers across North America, Europe, Asia and Australia. There are two production facilities: one located in Wiener Neustadt, Austria, where head office, research and development operations are conducted, and one in London, Ontario, Canada. At both facilities innovative aircraft solutions, of the highest level and quality are produced for flight schools and private operators. The company employs 1,200 people, and has already produced over 3,500 aircraft.
Courtesy of Diamond Aircraft Industries and its reseller M. Hochreiter

Fiat's Research Centre uses CATIA V4 3D to RHINO3 et UG 3D to RHINO3
CRF was founded in 1976 as an Engineering Centre providing R&D services to each of the different companies within the FIAT Group.
Today, the links to FIAT Auto, IVECO, CNH and other FIAT companies remain as strong as ever. Moreover, over the last ten years, CRF has adopted a new strategy for extended collaboration, opening its doors to business with other companies and organisations which are seeking to achieve and maintain leadership in their respective fields of activity.
Fiat's Research Centre considers these plug-ins as very easy to use and reliable
Courtesy of CRF

LifePort, Inc uses CATIA V4 3D to SOLIDWORKS
LifePort, Inc. was originally founded in 1990 and includes today three independently functioning operating divisions - LifePort, Enflite, and LifePort Interiors that design, manufacture, and certify a wide range of products for the aviation industry.
- LifePort's core product competency began with multi-mission medevac interiors for fixed wing aircraft, but has continued to expand since its inception.
- Enflite designs and manufactures mechanical devices and interior components for executive aircraft. Their diverse product line ranges from sidewall table deployment mechanisms to electric pocket doors and convection ovens.
- LifePort Interiors' product line now ranges from custom cabinetry to armored helicopter flooring.
The corporate headquarters of LifePort, Inc. are at Woodland, Washington, US.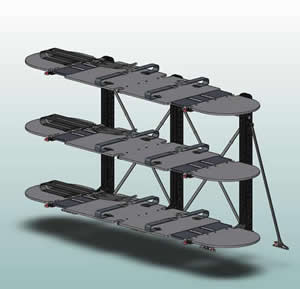 The Engineering Dept of LifePort, chose Datakit among different competitors to translate aircraft models to SolidWorks when designing the Triple Litter Stacking system. This product allows 3 patients to be stacked vertically during a helicopter medical evacuation scenario.
It was part of the contract statement of work that the company should be able to deliver the stacker assembly to its customer in CATIA usable file formats.
The Engineering Dept chose Datakit because:
- It charged less than the competition for more features and SolidWorks integration.
- It was possible to take its customer's native CATIA model files and translate them directly into SolidWorks part and assembly files, without an intermediate translation step. This helped to maintain the geometric integrity of the original CATIA data.
Courtesy of LifePort, Inc