With SolidWorks World 2009 just a few days away, Datakit announces substantial price cuts on its dedicated SolidWorks converters and new interface packs.
In the last two years, sales of Datakit's conversion plug-ins for SolidWorks have risen by 30%. These now top Datakit's own hit parade for plug-in sales just ahead of the ranges dedicated to Rhino and Opencascade. A notable trend is the strong increase in the number of customers with maintenance contracts. The number of dealers has also grown significantly.
On the eve of SolidWorks World 2009, Datakit is launching new, more aggressive pricing with substantial cuts of up to 30% and a new pack of SolidWorks converters. This decision echoes the demand of design offices who now want to have two, three or four converters.
Olivier Rigollet, Datakit's dealer network manager, explains: "more and more SolidWorks users come to us to talk about their need to read native CATIA V4 and V5 (2D and 3D) files into SolidWorks, and also to write from SolidWorks to CATIA. The number of consultations has grown considerably since last May's launch of our export solution for SLDPRT parts and SLDASM assemblies to CATPart and CATProduct files.
It is to address these demands that we have revised our pricing policy. Our price list now ranges from a simple solution for reading 3D files from CATIA V5 into SolidWorks to comprehensive packs including the ability to read 2D and 3D data from CATIA V5 and CATIA V4 and the round-trip back from SolidWorks to CATIA V4 and V5. We have cut 30% of our prices. However we did not want to reduce our dealers' margins and are maintaining our 40% discount. Nor did we want to compromise on the quality of our support by offering a low-cost maintenance initiative."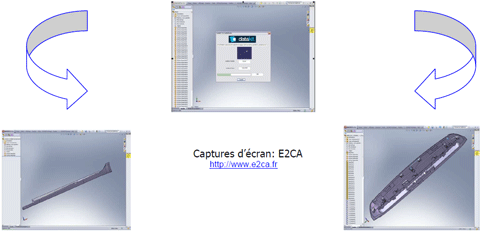 Francis Cadin, Datakit CEO, will be attending SolidWorks World 2009, and said how enthusiastic he was about the idea of spending four days in the SolidWorks heartland: "Datakit will be at SolidWorks for the fourth time. Last year was our first as GOLD partner. I hope attendance will stay firm despite the economic downturn, and I am also looking forward to meeting new dealers attracted by the price/quality ratio of our CAD data exchange solutions.
Datakit is exhibiting on booth 912 and will be delivering a talk on February 8 from 5:30 to 6:00 p.m.