These converters are perfect complements of the standard Rhino 5 functionalities.
Supported data :
Part and assembly files.
Geometry.
Wireframe.
Meshes.
Topology.
Maintenance :
It relies on the CAD import and export solutions developed by Datakit, it is regularly updated to follow the evolutions of these formats.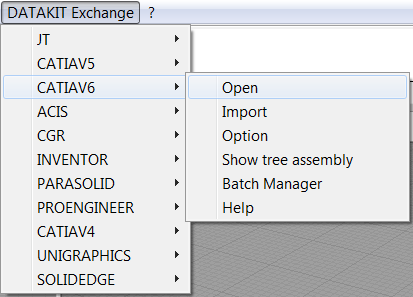 Compatibility :
Windows and Mac compatible.
Works on 32 and 64 bit platforms.
Quality :
Very easy to use.
Fast.
Many options available.
Datakit also proposes these plug-ins in 3 bundles :
Import bundle :
Including imports for ACIS, CATIA V4, CATIA V5, CGR, Inventor, JT, Parasolid, Pro/ENGINEER, Solid Edge and UG NX.
Export bundle :
Including exports for CATIA V4 and CATIA V5.
Imports + exports bundle : Including the two previous bundles.
The pricing of these bundles is very comparable with that of a converter purchased alone.
Datakit's plug-ins can now import and export all these formats in Rhinoceros 4 and 5 :
ACIS
CATIA V4
CATIA V5
CATIA V6
CGR
Inventor
JT
Parasolid
Pro/ENGINEER
Solid Edge
UG NX
See more about DATAKIT's plug-ins
Sign up on Datakit website.