Lattice Technology Co, Ltd. was founded in 1997, when the Internet boom was at its peak, by Hiroaki Chiyokura (Professor, Environmental Information, Keio, Japan). The company is now a major advocate of the extended enterprise, offering tools to facilitate and encourage the communication and sharing of 3D models. Its range of XVL Studio solutions enables users to view, measure and annotate a design without owning a CAD software licence.
XVL Studio has gained popularity for the performance levels of its in-built XVL compression engine, which considerably slims CAD files (by a ratio of 1:100), facilitating distribution to users corporate-wide. This extends the value of CAD models from design offices and R&D to a whole range of departments including sales, marketing, communication, maintenance, customer support, quality, manufacturing and even facilities.
A large choice of available applications has been developed to meet the specific needs of these different departments, who can not only create technical documents, but also publish all viewed components and generate computer animations from the data in the 3D model. Like the compressed files that they use, these applications do not demand large memory resources and can run on any PC, with no particular configuration prerequisites. They offer a large number of CAD converters, a tolerance level of 1/1000 mm, and support the concepts of attribute, colour and assemblies.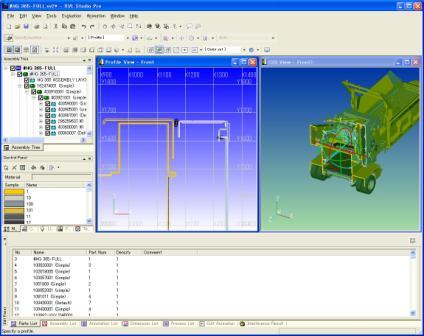 Datakit has been in close contact with Lattice Technology Co, Ltd. since Remy Ratanat, responsible for developer accounts, called in at the company's booth at the IVR 2006 show in Tokyo. Datakit's STEP technology has been chosen to be integrated in all levels of XVL Studio. End-users only have to choose the two-way STEP/XVL converter.
Daichi Aoki, project manager at Lattice Technology, Inc. explains: "we decided to integrate the STEP/XVL converter in response to strong customer demand. We chose Datakit because it has a strong track record in CAD viewers and the capability to address our needs for processing assemblies, metadata (PMI, PDM and FD&T data), instances and all the issues of visibility/invisibility. These are essential for our end-users who are not all experienced designers. They want rapid, selective access to the information they are interested in. We have been particularly impressed by the flexibility and turnaround of Datakit's engineering team."
Datakit set up a methodical organisation to address the need for a reliable and robust translator. The development for Lattice Technology Co, Ltd. and its customer base was a big challenge for the Lyons-based Datakit team. The project was an important showcase for their know-how and professionalism. There are more than 2,000 users of XVL in Europe, America and Asia, including many major industrial corporations whose supply chains and partner networks depend on these products to efficiently share and quickly view and validate 3D part and assembly data.
XVL Studio ver 7.1 with its integrated STEP component developed by Datakit will be released very soon.