Datakit, a leading CAD file conversion software vendor, announces that its CAD import plug-ins for Rhino are now able to maintain the assembly structure of the original model.
Indeed, the plugins line CrossCad/Plg, well known by Rhino users, already enable to import numerous CAD file formats in Rhino, but it did not allow to keep the initial assembly tree.
The latest version of these plug-ins has therefore been improved in order to convert the assembly structure of imported files by using the layers tree in Rhino.
"Rhino users want to keep the assembly structure when they import files coming from other formats. But the challenge with Rhino is that there is no real notion of assembly", explains Laurent Eraud, in charge of Rhino plug-ins at Datakit, "A trick of Rhino users is to import assemblies part by part in different layers, to reconstitute the assembly tree manually. But this solution is cumbersome and inaccurate. That's why we have improved our plug-ins so they can rebuild automatically a layers tree identical to the initial assembly tree, without any manual intervention".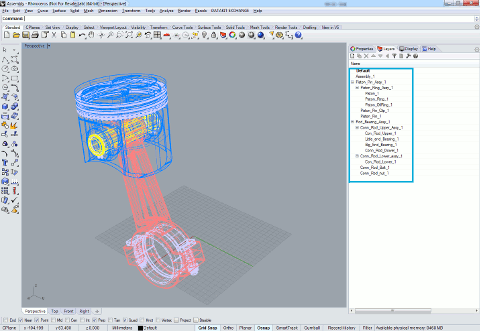 Assembly imported in Rhino with Datakit plug-in. The assembly tree is reconstructed as layers (blue box)
This solution enables Rhino users to keep a maximum amount of data coming from the initial design of the imported assemblies, and to rework these assembly easily, by editing only the desired layers.
Datakit also announces the addition of its CATIA V6 (.3dxml) files import plug-in to its bundle of Rhino plug-ins.
This plugin was already available for a few year, but was only sold separately. Datakit decided to integrate it in its existing bundle without additional cost, in order to facilitate the access to a complete multi-CAD import solution for Rhino users.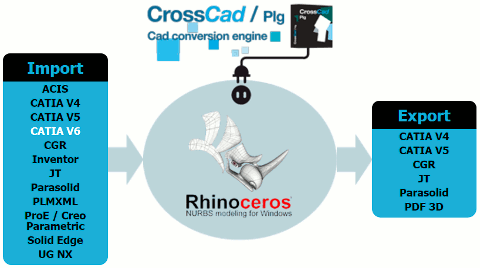 CAD import and export plug-ins offered by Datakit
Rhino users can therefore obtain this package of 11 CAD files import plug-ins for an unchanged price of 1500€.
Users who already own this bundle with an up-to-date maintenance subscription can also take advantage of the additional CATIA V6 import now!
To download, test or purchase CrossCad/Plg, visit the page dedicated to the Datakit CAD import/export plug-ins for Rhino.