Datakit, leading company in CAD data exchange, develops converters for more than 40 CAD formats regularly updated. In the latest version of its software, Datakit has worked hard on its SOLIDWORKS format reader, and meets the needs of its users by offering many new features.
The version SOLIDWORKS 2015 is now supported: all SOLIDWORKS files, from the versions 1999 to 2015, can be converted to the export formats available in CrossManager (more than 20 formats), or be read through the components dedicated to software vendors (CrossCad/Ware).
The SolidWorks plug-ins developed by Datakit (CrossCad/Plg) are also compatible with the 2015 version and have a brand new PLMXML import, allowing SolidWorks users to import PLMXML files into SolidWorks very easily. This import is added to numerous other import and export formats already available.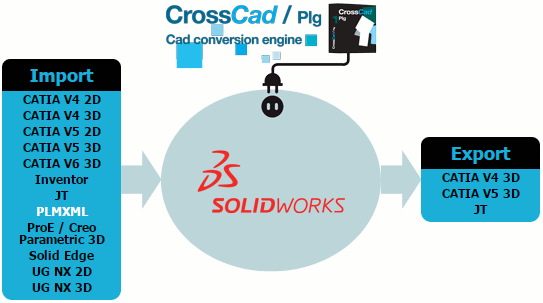 Datakit takes advantage of these improvements to make an additional offer, by providing for free the import of PMI (Product Manufacturing Information), which was previously available as an option. All owners of the latest version of a SolidWorks import plug-in (CATIA V5, CATIA V6 and ProE / Creo Parametric imports) can benefit from this offer. This feature allows to import in SolidWorks the graphical presentation of information such as 3D annotations, tolerances or dimensions, in addition to geometrical data.


CATIA V5 file (left) imported in SolidWorks (right) with its PMI (CATIA V5 file courtesy of NIST)
This offer applies in particular to one of the flagship Datakit products: The CATIA V5 3D to SolidWorks plug-in, which is certified "SolidWorks Gold Product".