Datakit will be visiting Stuttgart Control Messe, GE, 2014 May 6-9:
http://www.control-messe.de/en/control/.
This is a great opportunity to meet major CMM software vendors and showcase achievements in this domain. Datakit has been supplying and supporting world-class major Control accounts for a decade already. 
Datakit has been working on providing valuable assets for CMM purpose. The company is shipping toolkits to extract geometries and Product Manufacturing Information (PMI), directly from native CAD data: Dassault CATIA V5/V6™, including R24 (V5-6R2014) version, SolidWorks™, Siemens NX™ & JT™, PTC Creo™, STEP, without the need of any separate CAD software license: https://www.datakit.com/en/crosscad_ware.php.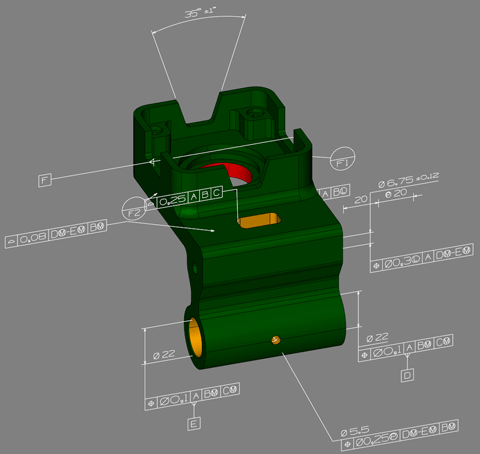 Part with PMIs, converted by Datakit
view the model

Datakit provides Product Manufacturing Information (PMI) through APIs designed for both semantic and rendering purpose. Valuable tolerancing, surfacing and geometric associativity is supported for various PMI entities:
Datums, Targets, References.
Dimensions: Linear, Angular, Radial...
Geometrical Tolerances: Flatness, Cylindricity, Surface Profile, Position, Angularity...
Roughness and Welding.
This is helping CMM software vendors in their process of identifying critical points of interest and test their 3D measurements against original CAD design geometries.
We would be glad to meet you and discuss these opportunities on the show. Please contact us to arrange a meeting.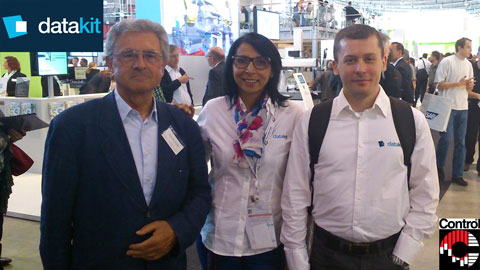 Halima and Arnaud from Datakit at Control 2014 with Werner Hochreiter, German Datakit reseller